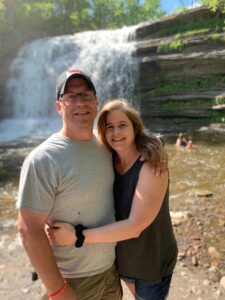 PASTOR – David Johnson (Interim)
David has held various ministry positions since obtaining his M.Div. from Gordon-Conwell Theological Seminary in 1992. His passion surrounds teaching the Bible and developing leaders. He enjoys pistol shooting, hunting, playing piano and reading.
He has been married to Debra fo 30 years, and together they are proud to have 3 children: Amy, Breana, and Cassandra.
Then I will give you shepherds after my own heart, who will lead you with knowledge and understanding.

~ Jeremiah 3:15
WORSHIP LEADER – Cassie Johnson
But I will sing of your strength,
in the morning I will sing of your love;
for you are my fortress,
my refuge in times of trouble. ~ Psalms 59:16
DAVID HARRIENGER – MODERATOR
MARYELLEN THOMES – FINANCIAL SECRETARY
DAWN HARRIENGER – TREASURER
DAVID FREDERICK – MISSIONS
NANCY JENNINGS – CHURCH CLERK
Vacant – EVANGELISM &

STEWARDSHIP
HOWARD THOMES – PERSONNEL
AUDREY JEROME – FELLOWSHIP
DAVID HARRIENGER – PROPERTY