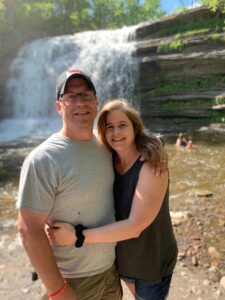 PASTORS – David & Debra Johnson
David has held various ministry positions since obtaining his Masters of Divinity from Gordon-Connell Theological Seminary in 1992. His passion surrounds teaching the Bible and developing leaders. He is bi-vocational and currently works as a Correction Officer for NYS. He enjoys pistol shooting, hunting, ice-fishing, playing piano, reading, listening to podcasts, and going down Youtube rabbit holes.
David has been married to Debra for over 30 years, and together they enjoy spending time with their three daughters: Amy, Breana, and Cassandra.
David and Debra have newly become grandparents with the birth of their grand-daughter, Sophia Rose.
DAVID HARRIENGER – MODERATOR
MARYELLEN THOMES – FINANCIAL SECRETARY
DAWN HARRIENGER – TREASURER
NANCY JENNINGS – CHURCH CLERK
HOWARD THOMAS – PERSONNEL
MARYELLEN THOMAS – FELLOWSHIP
DAVID HARRIENGER – PROPERTY